Initial Thoughts on Surface Pro
21 Feb 2013
So today, a new little toy arrived. Well...arrived is a strong word. In reality, I had a pre-order on the Microsoft Store, and then my local Best Buy got some in stock, so I cancelled my order and went and picked one up.
Below, you can see the Surface hooked up and driving my main 27" Dell monitor, with a keyboard/mouse. Also, you can see I need to clean my desk. Anyhow: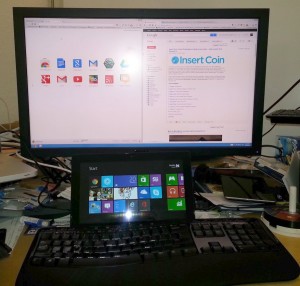 The Good:
The keyboard on the TypeCover is really comfortable to type on.
They pen is awesome, and I find myself wanting to use it most of the time
The system drove my 27" external display at full resolution with no issues
I was able to install and play Starcraft II with modest but functional settings. Gameplay was reasonably smooth
I was able to get Ubuntu running in VMWare Player in under an hour, including downloading the player, an Ubuntu image, and all the packages I usually use. This is now a functioning development machine.
The horizontal swipe to move between active applications and the desktop is incredibly intuitive. I found myself doing this almost immediately. It seems to "just work" when it comes to app order, too. Hard to explain, but I was easily able
Win 8 "Modern" apps work really well on a touch screen. They also pause/degrade really well. I was watching Netflix and got an IM, tapped the notification, immediately taken over to the app, then a quick swipe and I'm back in Netflix, which resumes as though nothing happened. It doesn't even re-buffer.
The screen is unbelievable. Seriously, stupidly sharp and vibrant.
The Bad:
Turns out the magnetic storage for the pen is the same as the power connection. I find this annoying since I set down the pen and then forget where I put it if it's sitting at my desk
Speaking of - the power connector could use some work. I have to look at what I'm doing - it's not deep enough to brute-force in like most laptop connections, and it's not soft enough to click in under the magnet's force like a Macbook
The trackpad on the TypeCover is OK, but not satisfying. I'll admit to being spoiled by Apple here, they really do buy the best Synaptics gear. The trackpad on Cat's Dell is similarly nice and tactile. I think the biggest problem I have here is that the right mouse button area is tiny.
The pen tricks me - there's something about how I want to use it sometimes that doesn't work. There's a button on the side that clicks and draws a circle on the screen, but doesn't seem to "do" anything. It just draws a circle. The control panel is of no help here.
Google turning off EAS hit Windows 8 pretty hard. Right now there's no way for me to use the built-in calendar, contacts, or mail apps successfully. My hope is that MS will implement CardDAV and CalDAV soon enough, or Google will release a native Win8 app for Gmail/GCal. I can only see this as a choice Google made that hurt its customers as an attempt to harm Microsoft. For me, it just means I use the web versions of these apps (which is less convenient, but not destructive).
The mildly interesting
It's taken me about an hour to get used to not pulling up the start menu for stuff like settings. While I know I can, there's a new right-side menu. I don't expect this change to take long to cement permanently
There are a few quirks around libraries not hosted on the computer. Things like my linux fileserver can be accessed in the desktop mode (by, say, Windows Media Player) but not by the XBOX Music app in Modern.
Overall, Modern seems to be a very Apple way of doing things - if you're not on their system end-to-end, you don't get to play.
Skype is tied to your login permanently, however keeping two accounts active is reasonably functional (work and home). I'm annoyed I can't sign out of my personal skype and sign in to my work skype from the same account, but it's not that big a deal since we're moving away from Skype at work and the multi-chat program I found (IM+) works well enough.